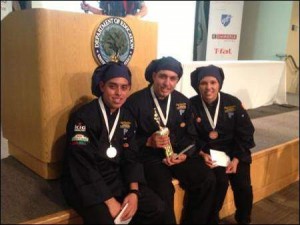 FOR IMMEDIATE RELEASE: June 13, 2013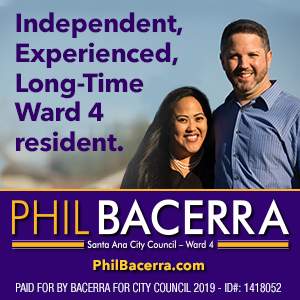 Contact: Deidra Powell Thursday, Chief Communications Officer, (714) 558-5555
Valley High School Culinary Arts Students Win
National Cooking Up Change Competition in D.C. for the Second Consecutive Year
The Valley High School Culinary Arts team is the reigning champions in the national Cooking Up Change competition that was held in Washington, D.C. Monday, June 10, 2013. This is the second consecutive year that Valley has taken home the title. The team consisted of three students — Carlos Ortiz (12th), Cecilia Magana (12th) and Cesar Amezcua (11th), supported by their Culinary Arts Teacher Monica Aguilar.
Carlos, a recent graduate of Valley, set the tone for the entire team. He repeatedly told them, "If you can dream it, you can achieve it." Carlos, Cecilia, and Cesar did just that by scoring the highest among culinary arts teams from all over the nation. As Cesar said proudly, "We want to show that you can eat healthy food that tastes really good."
Cecilia describes the winning meal. "The main dish is "Pita Packs a Punch." "We call it that because it's like nothing you have ever tasted before. We ground up turkey – which is healthier than chicken or beef – and mix it with seasoning, salsa and kidney beans. Then we add the crunchy texture of cucumbers and the softness of tomatoes. It melts in your mouth. Cecilia explains why she has a passion for cooking. "I want to do it for the children. I grew up with 10 brothers and sisters. I know how children eat. I want to cook healthy for my family. I have 18 nieces and nephews, and I know they don't eat healthy. It's time for a change."
To compliment the main dish, students prepared a delicious side dish. "It's a Sweet and Spicy Slaw. It is made with red cabbage, carrots, green apples, corn, orange juice, jalapeños, sugar and mayo. When you first bite into it, you taste the creamy sweetness of the O.J., mixed with apples. Then as you continue to eat, you taste the spiciness of the jalapeño. It leaves a kick in your mouth," said Carlos.
Carlos commented on his motivation for preparing healthy meals. "I was inspired by my Dad. He has diabetes and can't eat all the good food my Mom cooks for us. My Dad doesn't show his affection much. But when I am sick, he comes into my room and asks me what I want. He cooks me a special soup. I know he loves me." Cesar's parent also inspired him to cook and eat healthy. "My inspiration is my Mom. She also has diabetes. I cook for her at home. I cook healthy meals that she can eat, and she really likes my cooking."
The Culinary Arts program has changed their perspective on eating healthy, and their goal is to get the message out to other students. "If we can make a change here in Santa Ana by getting tasty, healthy food served in our cafeterias, we can make this change happen all over the country and kids will eat better and learn more."
This is the second national championship win in a row for Culinary Arts teacher Monica Aguilar. "We have amazing and resilient culinary students who are filled with a wonderful passion for cooking. They possess the drive and purpose to change the way our families and community view healthy cooking. Their determination, culinary skill and drive have contributed to bringing the national title to Valley once again. I am extremely proud and blessed to work with such passionate students. We also have a great team of High School Inc. business partners and volunteer chefs who mentor and support our academy students. Their contribution of time and support has definitely contributed to this accomplishment. They say it takes a village to raise a child, and the dedication from teachers, administrators, and the entire Valley team has represented an invaluable contribution to their success."
The Santa Ana Unified School District, the Santa Ana Chamber of Commerce, and the High School Inc. Foundation have created a unique public/private partnership that empowers students to materialize their dreams. By establishing the High School Inc. Academies at Valley High School they have provided students with an opportunity to experience what a career in the field of their choice would be like. They also bring together state of the industry facilities with the experience and expertise of business partners from among the top companies in their respective industries. High School Inc. students graduate from high school prepared for both college and career.
###