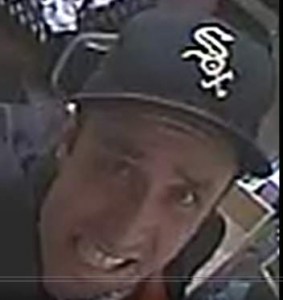 SAPD Community Alert:
Police request media and public assistance identifying suspects involved in series of commercial burglaries in Santa Ana
LOCATION: Forty Martyrs Armenian Church 5315 W. McFadden Ave., Santa Ana
SUSPECT #1: Male, White, 30-35 yrs., short brown hair, clean shaven, thin build, wearing a black baseball cap with "Sox" logo, black jacket with orange liner, white/black striped polo shirt, blue shorts and white/black tennis shoes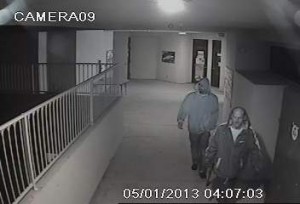 SUSPECT #2: Male, White, 40-45 yrs., bald head, mustache, medium build, wearing olive green and white hooded jacket, blue jeans and black over white tennis shoes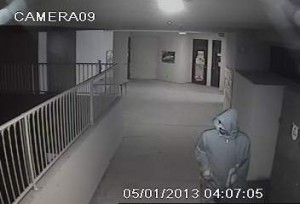 SUSPECT #3: Male, possibly Hispanic, 35-40 yrs., goatee, thin build, wearing light colored hooded jacket, blue jeans, and black tennis shoes
VEHICLE: Gray newer model four door sedan
SYNOPSIS: On 05/01/2013, at approximately 0459 hours, the three suspects depicted above forced entry into the Forty Martyrs Armenian Church by prying open a side door and stole a safe containing approximately $15,000. The suspects fled westbound on 5300 W. McFadden Avenue in a gray newer model sedan. Additional surveillance video recovered by the victim revealed involvement by a third suspect in the burglary.
Santa Ana Detectives believe these suspects may also be involved in four additional burglaries in Santa Ana where safes were taken.
ANONYMOUS TIPS Call 1-855-TIP-OCCS or 1-855-847-6227 Text TIP "OCCS" plus your tip to 274637 (CRIMES). www.occrimestoppers.org