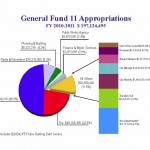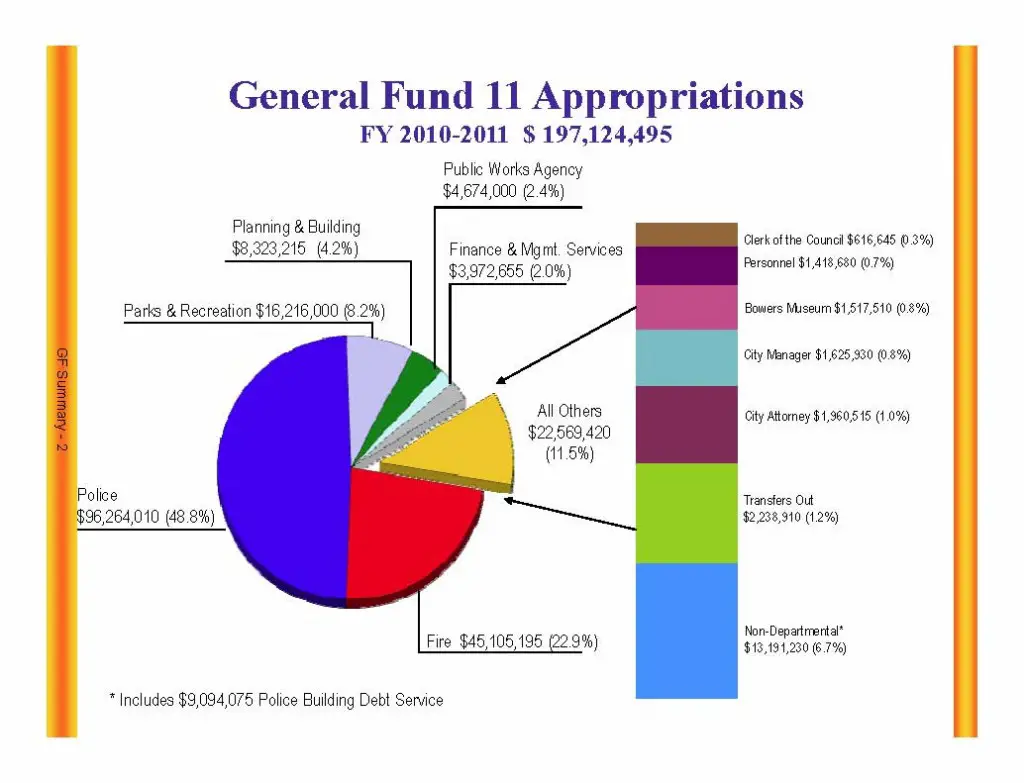 Regardless of who ends up serving as the Interim or permanent Santa Ana City Manager, the most pressing issue is going to be the next city annual budget.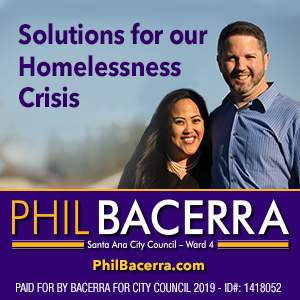 The City of Santa Ana's administration has already cut to the bone. They have outsourced as much as could be expected – and they have renegotiated contracts with all of their employee unions. They have had a hiring freeze in place for some time as well.
Where to cut next?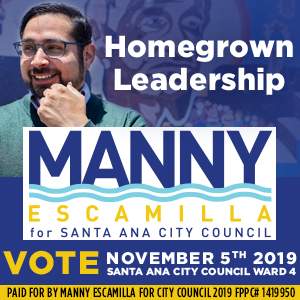 Over 70% of the current budget is spent on police and fire services. Of that, 48.8% funds the police department. (See the graphic above).
The SAPD is already understaffed. How can we cut their budget further when public safety is a priority for most voters? I do think that the City often misallocated its police resources. For example, the SAPD again targeted cruising this Easter weekend. Why not make that a City event, put up grandstands and make money instead, as the City of Long Beach does every year with their Grand Prix?
Can we use more security cameras to monitor hot spots in the City? Internet cameras have become an inexpensive option.
What about non-police security? Downtown Inc. has been paying security guards to help keep the downtown Artists Village safe. Results have been somewhat mixed, as one man was killed while being robbed, but overall the downtown area does feel safer.
The City of Brea found a way to slash their fire department's budget by using apprentices to fill out crews, instead of paying hundreds of thousands in unnecessary overtime. This could be an option for the City of Santa Ana as well.
For some reason the City gives the Bowers Museum over one and a half million a year. That is hard to justify given that we have had to cut our Parks and Recreation budget to the bone. The money spent on the Bowers is equivalent to almost ten percent of our Parks and Recreation budget! Clearly the Bowers needs to stand on its own.
The Santa Ana Zoo also sucks up a lot of the Parks and Recreation budget. At some point you have to believe it would make sense for the City to spin off the Zoo as a free-standing entity and let it sink or swim on its own as well.
Here are a few links to information about the current City budget:
Inside covers: City Council and Executive Management Team
City Manager's Letter
Section 1:  Budget Summary
Section 2a:  General Fund Summary
Section 2b:  General Fund Detailed
Section 3:  Internal Services Fund
Section 4:  Community Development Agency
Section 5:  Special Revenue Fund
Section 6:  Enterprise Fund
Section 7:  Capital Funds