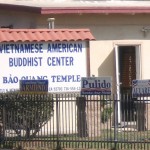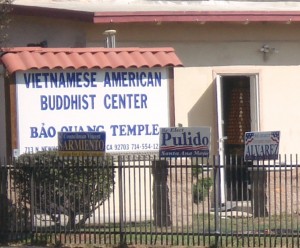 Alfredo Amezcua, the local lawyer who is challenging Santa Ana Mayor Miguel Pulido in November's General Election, has gathered up essentially the same coalition that backed Councilwoman Michele Martinez when she took on Pulido, in 2008.  We know how that worked out.
So the question is, how will Amezcua grow this coalition such that he will be able to prevail over the better-funded longtime incumbent, Pulido?
Amezcua has succeeded in gaining some support from Santa Ana's NIMBY community, which closely parallels the folks known as Santa Ana's "Usual Suspects," but their influence is waning, as is their number.
The only demographic that is growing in Santa Ana is that of Vietnamese voters, who have been moving into town in droves over the past few years.  The bad news for Amezcua is that Pulido has been reaching out to Viet voters for some time.
Councilman Vince Sarmiento has helped Pulido reach out to this community, as has Mayor Pro Tem Claudia Alvarez.  Sarmiento appointed businessman Kenneth Nguyen to the Parks and Recreation Commission.  My sources tell me that Nguyen is very connected with the business community in Little Saigon, where he wields a lot of influence.
Take a look at the picture above this post.  Pulido and his runningmates actually got their signs posted on a Buddhist Center, on the West side, that is very popular in Santa Ana's Viet community.  I am guessing they won't be allowing Amezcua's signs on their property this year.
To make matters worse for Amezcua, it is very likely that Viet voters will be voting en masse in November, some to support Assemblyman Van Tran, as he runs against Congresswoman Loretta Sanchez, and others to support Sanchez herself.  I expect that State Senator Lou Correa and Assemblyman Jose Solorio will also be actively courting the Viet vote. 
I don't expect Correa to take sides in the mayoral race.  But Solorio will – he is a staunch ally of Pulido.  As for Sanchez, who knows?  She generally is for herself, for sure, but doesn't generally do much for other candidates, although she did endorse Martinez in 2008.
Amezcua has concentrated most of his early campaign efforts in the Latino community.  Will he be able to mount much of a campaign in the Viet community too?  We'll see.  Unless he has folks like Kenneth Nguyen helping him, that may be an impossible task.
Viet voters already put Supervisor Janet Nguyen in office.  Will they now go all in with Pulido as well?  We'll have to see about that.  Amezcua is known to be friendly with Supervisor Nguyen.  Pulido?  Not so much.