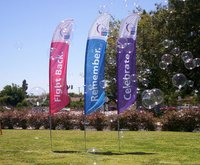 Relay for Life of Santa Ana
The Relay for Life is the American Cancer Society's signature event in communities around the country.
Relay for Life is a community event that brings people together for a couple of days, to raise awareness for the fight against cancer.
We depend on strong leaders from within the community to help make this happen, and volunteers from our schools and neighborhoods to put this event on. It's an incredible experience to share with the people who surround you.
The 2010 Relay for Life of Santa Ana will be held on May 22 and 23, from noon Saturday til noon Sunday, at Santa Ana College.
It's always great to have the community come out and support to help raise awareness of cancer in our community, and help us Celebrate, Remember, and Fight Back!
Start Time: Saturday, May 22, 2010 at 12:00pm
End Time: Sunday, May 23, 2010 at 12:00pm
Location: Santa Ana College, 1530 W. 17th Street, Santa Ana