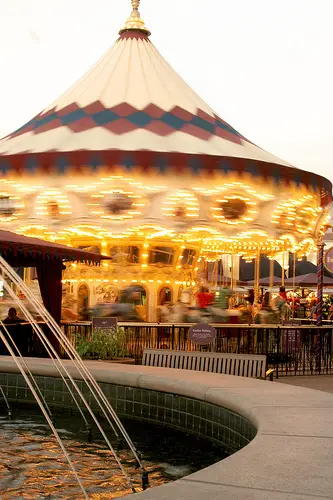 FOR IMMEDIATE RELEASE: APRIL 22, 2010
CONTACT: JENN STARNES 949-724-6574
Great Park Seeks to Bring Carousel Back to OC
Former Fashion Island attraction may return to action at the growing park.
IRVINE – The Orange County Great Park Board today approved a recommendation to purchase a carousel that was removed last year from Fashion Island. The Board approved a budget reallocation to purchase the 38-foot diameter hand-painted carousel built by the Barrango Manufacturing Company in San Francisco. The carousel is projected to open late this summer, and will be located in the same area of the Park as the Great Park's Kids Rock playground, currently under construction.
"The carousel will be a fun activity for Great Park visitors of all ages," said Larry Agran, Chair, Orange County Great Park Corporation. "As the Great Park grows, permanent amenities such as the carousel and the Great Park Balloon will complement our year-round schedule of events and activities."
The carousel has twelve murals, 30 jumping horses/menagerie animals, two chariots and two standing horses. The ride can accommodate up to 36 adults or 40 children. Carousels are part of American culture and heritage dating back to the 1900's. At one time there were 7,000 carousels but today only 300 remain in existence. The Great Park will join the ranks of other metropolitan parks with carousels, including the Central Park in New York, Balboa Park in San Diego and the Place du Carrousel in Paris.
"As people visit the Great Park to ride the carousel or ride in the observation balloon, they will see the park growing and changing and will become witness to our progress," said Mike Ellzey, Chief Executive Officer, Orange County Great Park Corporation. "This attraction was sorely missed when it was removed from Fashion Island, and we're pleased to have the opportunity to bring the carousel to the Great Park."
Upon Irvine City Council approval of the Board's recommendations, the carousel is projected to open at the end of summer 2010.
For more information about the Orange County Great Park, please go to www.ocgp.org