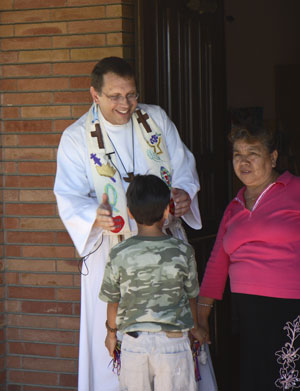 St. Peter Lutheran Church, in Santa Ana, is conducting Gang Intervention classes, from Feb. 2 through March 20, on Tuesday evenings, from 7 p.m. to 9 p.m.
Below is their Class Syllabus:
Gang Intervention Class Syllabus
Location: St. Peter Lutheran Church 1502 N. Parton Santa Ana, CA 92706 (N/W Corner of Parton & 15th Street )
Part I Classroom Training Tuesday evenings: 7:00 PM to 9:00 PM
Orientation Class (1- Hour) Kevin Brown February 2nd
Gangs 101 (1-Hour) Detective Estrada February 2nd
Gangs 101 (2- Hours) Detective Estrada February 9th
Substance Abuse (1.5-Hours) Roger Bendinelli February 16th
RYTMO (0.5 Hours) Joey Arreguin February 16th
Probation (YFRC) (1-Hour) OCPD February 23rd
Family Resources (1-Hour) CSP February 23rd
Mediation (1-Hour) Stephanie Winlock March 2nd
Role Play (1-Hour) Kevin Brown March 2nd
Classroom Hours: 10
Part II Street Intervention
Field work with trained Intervention Worker Saturday Nights 6:00 PM to 10:00 PM
(March 6th – March 13th – March 20th )
Street Intervention Hours: 12
Total Program Hours: 32
Class size is limited. Total cost for the course is $40 and includes required LWSGI Jacket.
If this is your heart's cry, now is the time to respond .
Please contact Pastor Kevin Brown for more information.
714-321-5701
Email: livesworthsaving@hotmail.com