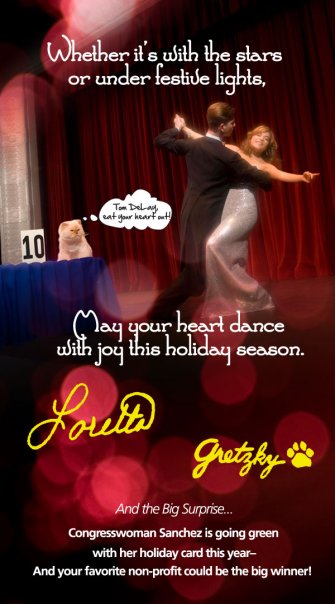 Rather than print thousands of cards this year, Congresswoman Loretta Sanchez will instead make donations to Orange County non-profits in need by sponsoring a holiday donation competition, according to her campaign website.
Your favorite non-profit could benefit – click here to apply today! Deadline is Monday, December 16.
"In light of these tough economic times and given the continued focus on climate change and the need to do more to protect our environment, there was no question that for the first time ever, the right thing for me to do this year was to go green with my holiday cards," said Sanchez. "Those who typically receive my cards will still receive my card, only this year they will receive an electronic version. And with the money we normally spend on printing and mailing the cards, my campaign will give donations to needy non-profits in Orange County through a competitive application process."
Click here to see the full size Sanchez Christmas card.
According to the O.C. Register, Sanchez used the ballroom dancing picture because Republican Tom DeLay was on Dancing with the Stars this year.  And apparently Sanchez likes to go ballroom dancing.  The man seen in the card with her is her dancing instructor, Slava Stefanov.  He runs the Londance Studio in Santa Ana.