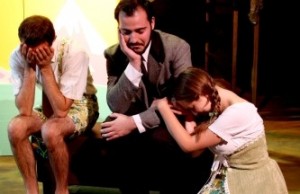 This is the final weekend of the "Little Dog Out," by Douglas Carter Beane, at Santa Ana's Theatre Out.  You can watch this stage production on Friday, September 18 from 8:00 pm to 11:00 pm.
"Little Dog Out" is about a young, heart-throb of the silver screen, Mitchell Green, whose star is definitely rising. But in Hollywood fame is fleeting and it can all come crashing down if his agent can't keep him in the closet and away from the rent boy he's falling in love with.
The founders of Theatre Out  have long seen the need for a theatre that supports the gay and lesbian community. The Orange County theatre scene is thriving and the time is right to introduce a theatre company that tells the stories of the gay and lesbian community with romantic comedies, intriguing musicals, thrilling mysteries, serious dramas and everything in between.
Beane's credits include the following: NY Stage: As Bees In Honey Drown (Outer Critics Circle John Gassner Playwriting Award, Drama Desk Best Play Nomination), Advice From A Caterpillar (Outer Critics Circle Award nom), White Lies, Devil
May Care. Regional: The Country Club (LA Times Critics' Choice & Dramalogue Awards), Old Money. Film: To Wong Foo, Thanks for Everything, Julie Newmar. He is a founding member of Drama Dept. and member of the Dramatist Guild.
Click here to order tickets.